Archive for April 15, 2011
You may have noticed with the previous poll that the very right-hand edge of it was "cut off" by the width dimensions of this blog's theme.  WordPress allows you to set three different poll sizes, and that poll was set to the maximum, which does fit on our Outskirts Press blog, but doesn't fit in its entirety here.
The next poll, however, fits on both. This is the poll for the Best Book of the Year Award 2010 and its $1,500 Grand Prize.  I summarized the finalists in a previous posting here.
Or for more details, you can visit each of these respective blog postings for details about…
Now it's time to vote.  We're taking votes through the end of April and the winner will be notified in the first week of May. Good luck to them!
A few weeks ago I discussed the ongoing process Outskirts Press was engaged in to brand all our social networking channels–or at least the ones we were active with, which were/are Facebook, Twitter, YouTube, and our Blog).  
In those postings I showed screen shots of the new branding for each channel as it went live.  Our blog was the last one to join the branding party.  This week, it finally got a much needed facelift.  And, to continue the topic I started a few hours ago, we posted a poll on the blog to solicit our readers' opinion of the change.
Now, this is always tricky, because people by their very nature are often reticent about change.  So we wanted to clarify WHY we changed the blog when we asked for feedback.   That way, votes would be more likely to be fair rather than impulsively negative based solely upon the notion that "Any change is bad."  
And this is a very important part of Web 2.0.  Web 2.0 compels companies to take more time to explain WHY they do the things they do.  There are usually good reasons.   The reasons for why we changed our blog are outlined on this posting of the Outskirts Press blog, along with the poll.  Or, I've included the poll here, too — Yes, WordPress allows you to duplicate the same polls across multiple blogs, and share the same results. How cool is that?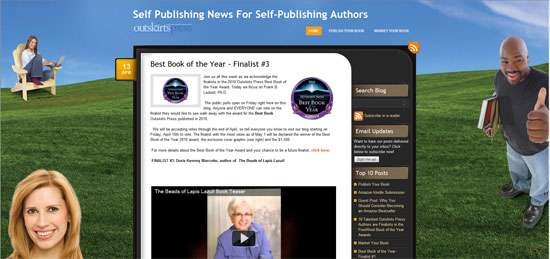 One of the major benefits of "Web 2.0" is that it facilitates and even encourages back-and-forth communication between companies and customers.  People can offer real-time feedback in the way of comments, star ratings, reviews, "likes," "thumbs up (or down)."   Surveys, polls, and other widgets also encourage this type of "audience participation" in fun, friendly ways. 
We have two polls active this week on our Outskirts Press blog.   One is gauging our blog readers' reaction to the new branded blog we launched this week.  The other is soliciting the winner of our 2010 Best Book of the Year Award.  More about both of those polls later today.
In the meantime, if you blog on WordPress, adding a poll to your blog is very easy. Along the left-hand side of your dashboard is a category titled "Polls."   Click on that to "Add a New Poll."  The functionality is self-explanatory, user-friendly, and flexible. You can control, to some extent, the width and color of the poll to make it "match" your blog theme.  You have a number of different settings for how the results are displayed (or whether they are displayed).  Since Web 2.0 is not only about feedback, but feedback ON that feedback, I would encourage you to set the results so they are publicly viewable, at least in percentages if not the actual number of votes.   One thing Web 2.0 has shown us is that people like being heard.  Not only do they want to vote on your poll, but they want immediate feedback that their vote has been counted.  The WordPress polls offer that voting feedback instantly.
Polls can be a great item to add frequently to your blog postings, and WordPress makes it easy.
Speaking of which, in a few hours I'll talk about our polls that we're running this week, and include the poll so you can vote (or just see how the votes are turning out thus far)…