The votes are in and the winner of the 2018 Outskirts Press Best Book of the Year Award goes to T.D. Arkenberg, author of Two Towers.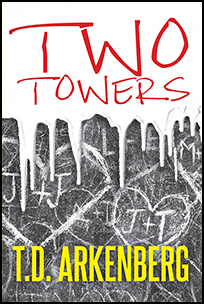 In his poignant memoir, Two Towers, T.D. Arkenberg navigates readers through a personal perfect storm. A resurgence of his father's long-dormant cancer and chaos at his job in the aftermath of the September 11 terrorist attacks serve as the backdrop for a private struggle with a secret hidden for thirty-seven years. The story opens on Christmas Eve, 2001. Alone, he stands in his empty childhood home. Two months earlier, his father succumbed to cancer after a lengthy struggle. Five weeks after that painful loss, his mother's unexpected death shattered his world. The double-barreled blast toppled his towers of strength and unconditional love at a time he was barely treading water. Only weeks before his parents' deaths, his professional life descended into turmoil. Nineteen hijackers commandeered four commercial jets, unleashing unspeakable terror on US soil. Two towers collapsed into piles of twisted steel, a dusty grave for thousands of innocent souls. Friends don't know how he survives. Neither does he, especially with the added burden of a dark secret. As his world starts to crumble, fate offers a lifeline.
T.D. Arkenberg's memoir won 70% of the public vote on SelfPublishingNews.com to walk away with this prestigious award and its $1,500 Grand Prize. T.D. is already a multi-award winning writer with awards from the Independent Publisher Book Awards, Next Generation Indie Book Awards, National Indie Excellence Awards, Pirate's Alley Faulkner Society, and the Colorado Independent Publishers Association EVVY Awards, where he recently took home first place honors. Two Towers is his first memoir and his fourth book with Outskirts Press.
Congratulations! And well-deserved!