Posts Tagged 'google plus'
This week's series of post involves Google+, setting up a personal account and using Google+ business pages for your company's promotional efforts. Yesterday's post focused on setting up a personal Google+ account and finished with clicking the Join button. Once you've joined Google+, you see this screen: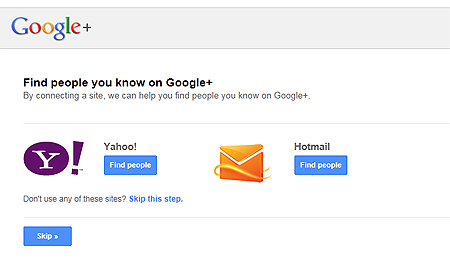 Google+ wants to find people to add to your account for you.  I'm probably not the first to suggest this, but allow me to suggest to Google clearly, visually, what this screen should look like to actually be useful both for the user, and for Google in their effort to compete with Facebook:
Yes, Google+ would be much better if it could automatically populate friends/associates from Facebook accounts. But, of course, that's the rub, isn't it?  Facebook doesn't allow Google to aggregate or spider its content (that's part of the reason Google had to invent its own social network).  You might say Facebook has created its own, largest competitor.  And, in reality, the fact that content on Facebook doesn't translate to SEO (search engine optimization) but content on Google+ does will mean that businesses may find more and more reason to spend their time on Google+.
But, that's in the future. Now, there's no denying that Google+ has its work cut out for it, and this first screen on Google+ is one example of the hill it has to climb.   
… stay tuned…
Google launched Google+ in June 2011, which Mark Zuckerberg described as Google "… trying to build their own little version of Facebook."  He's right. If you look at Google+ you immediately see the similarities, so much so I'd be surprised if Facebook lawyers weren't contemplating a suit. But that's a posting for a different blog.  This one involves using Google Plus for business.
Of course, up until November,  you couldn't use Google+ for business, not really. But in early November, Google+ launched business pages for their new social networking site, so now's the time to write about how to set-up and use Google+ (Google Plus) for business.
First, you need to create a Google+ account at http://plus.google.com
Doing this requires you have your own Google account, which perhaps you have already set-up for Google Alerts, or many of the other services Google offers.   Enter your first name, last name, gender, and year of birth. All self-explanatory. Then upload a photograph, and if you're an author, I would recommend uploading the same professional image you use on the back of your book and for all your book marketing efforts. 
So far, this is basically the same as Facebook in that I created a "personal profile" on Facebook prior to creating a Facebook Page for Outskirts Press.  Their close association has always prevented me from truly using Facebook (even my personal profile) for much other than business. This is the reason my photograph on my personal Facebook page is the round OP Logo.  Kind of defeating, I know, but it is what it is….    So now that I'm starting with Google+, I'm going to see if it is feasible to separate business from pleasure, so to speak — after all, that is one of the "benefits" Google+ claims over Facebook; we'll see if it's true.  To that end, I've  uploaded my professional head-shot into my personal Google + account.  As you do this, you may or may not have the same considerations.
The next check-box question requests your permission to "personalize" the web for you.  This is Google's way of asking if they can use your personal information to tailor advertisements to you.  Their description of this functionality is purposefully vague on its real purpose, but that's no surprise.  Who's going to answer "Yes" to "Send me lots of ads" but saying "Yes" to "You'll get to see everything your friends recommend that you might also enjoy" is a lot easier to swallow.   Here's the disclaimer language on Google's help page regarding this check-box:  When you click the +1 button, you're explicitly signaling interest in displaying, sharing, or recommending specific online content, including ads.
Of course, one might argue that disabling that check-box removes half the point of social networking, and that's true, so what you do with this check box is up to you.
Then you click join… and come back tomorrow for what happens next…